tle-xls.zip (5KB, 14Jul03)

A common standard for orbit definitions of Earth satellites is the NORAD two-line element set (TLE) which is not supported by Celestia (yet, as of version 1.3.1pre6).

This spreadsheet accepts as input a standard TLE pasted from a text source, and outputs the Celestia orbit definition for an Earth satellite, ready to copy-and-paste into a Celestia ssc file.

Note that this utility simply translates the "mean" orbital elements provided in the TLE directly into the corresponding Celestia orbital elements, without further processing. It therefore generates a representative orbit for the designated satellite, but not one which can be used for satellite tracking.

(I've put "mean" in scare quotes simply because the TLEs don't provide a conventional arithmetic mean, but a "mean" which arises by the suppression of periodic terms.)

TLEs for many satellites are available from a number of on-line sources, including http://celestrak.com/NORAD/elements/ and http://spaceflight.nasa.gov/realdata/elements/index.html.

As well as building the elliptical orbit definition, the spreadsheet supplies a default name which is the alphanumeric International Designator for the object, retrieved from the TLE - but you'll probably wish to replace this with something more memorable. The spreadsheet also generates an Obliquity, EquatorAscendingNode and RotationOffset, which will rotate your satellite model so that its principal axes align with its orbit. In many cases, you'll need to make a final adjustment to its orientation, using the Orientation command, with or without an additional RotationOffset of 90, 180 or 270 degrees - this is necessary if the principal axes of your model are not aligned with Celestia's principal axes.

Grant Hutchison, July 2003 & January, 2010.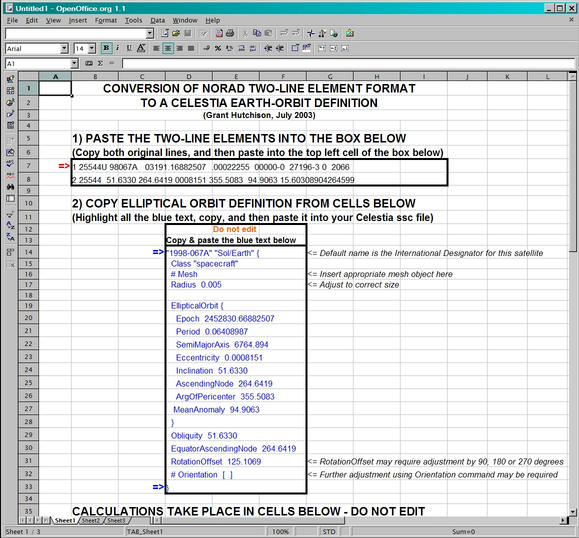 Example tle.xls spreadsheet