This is Selden's Novice Guide to Celestia: Installing a Panorama
---
---
Celestia is a free, real-time, 3D space simulation. You can use it to view our Solar System and the surrounding stars from any viewpoint you like -- from the surface of the Earth, from outside the Galaxy, or trailing along behind the Cassini Saturn probe. Celestia runs best on a computer that includes a 3D graphics card, but it'll also work on a computer that does not have one.
More information about Celestia is available at http://www.shatters.net/celestia/
Philmont is a mountainous High Adventure Base run by the Boy Scouts of America. It's located in northeastern New Mexico. More than 20,000 people visit it each year for 10 days of exploration, hiking and fun.
More information about Philmont is available at the official BSA page at http://www.scouting.org/philmont/ or Selden's unofficial page at http://www.lepp.cornell.edu/~seb/philmont.html
This is an attempt to show how to install Celestia on a computer running Windows. (Celestia also is available for MacOS and Linux.) Following that, it shows the steps used to install and view a panorama -- an immersive picture of the peak of the Tooth of Time on Philmont Scout Ranch on our planet Earth.
---
[back to Contents]

Here's how to download and run the Celestia installation program.

Warning: your computer must not use a "download accelerator" program. They mess up the transfer something awful. If you have one installed, you should de-install it completely. Use the Windows "Control Panel" utility "Add or Remove Programs" to get rid of it.

Click on the small pictures below to see much larger versions.
Go to the SourceForge Web site and select the most recent version of Celestia for your type of computer. Most likely you have a PC running Windows. Here's a link to the SorceForge Web page:
http://sourceforge.net/project/showfiles.php?group_id=21302.

When you get there, it'll look like this:

Celestia at SourceForge
Scroll down the page until you see the link to celestia-win32-1.4.1.exe. This is Celestia's installation program. It contains Celestia and the files that it uses.

Celestia win32 at SourceForge
Click on it.

SourceForge will now put up a window asking which Mirror site you want to use. Scroll down to the bottom and select one that's near you. I usually use superb-east.dl.sourceforge.net.

Celestia SourceForge mirror


Then SourceForge will display a window saying that the download will start momentarily

Celestia SourceForge download
Exactly what happens next depends on your Web browser. You'll need to tell it that you want to save the installation program somewhere on your disk. Don't try to run it while it's downloading. Be patient: the installation program is almost 15 MegaBytes and will take a while to download.

Once you've downloaded the installation program to a place on your computer's disk, it's time to run that installation program

Locate the installation program and double-click on its icon.

Celestia Installation Program


It'll put up an introductory software installation window. Click on Next

Celestia Installation Window 1
Accept the license.

Celestia Installation License
Step through the remainder of the setup screens, clicking on "Next" for each one.

Make sure all of the boxes are checked in the screen named "Select Additional Tasks"

Celestia Installation Tasks


The next screen is the one where you tell the installation program to install Celestia: click on the "Install" button.

Celestia Installation


Finally, after Celestia and its associated files have been installed, you are given the option to read its introductory README file and to run Celestia for the first time, verifying that it actually works.
Celestia Verification


Take the time to explore a little. For example, you might select the "Run Demo" option in Celestia's Help menu.

A detailed User's Guide by Frank Gregorio is available at http://www.shatters.net/celestia/documentation.html
---
[back to Contents]

Now that you have Celestia installed and have explored it a little, here's how to install an Addon. This uses the Philmont "Tooth of Time" panorama as its example.

Look at the Web page where this panorama Addon is provided: http://www.lepp.cornell.edu/~seb/celestia/panoramas.html#2.0

Scroll down to the link to the Zip file and click on it.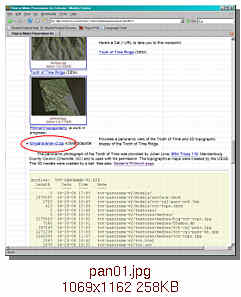 Web page of Philmont ToT Panorama
This will immediately start your Browser's download procedure. Save the Zip file someplace convenient. (I keep all my downloaded Addon Zip files in a download folder so I can reinstall them if necessary.)

After the Zip file has been downloaded, extract its contents to Celestia's /extras/ folder. The Zip file contains both folders and files. The files must stay in the folders. The easiest way to make sure this happens is to select (double-click) on the Zip file's icon and then drag the folder /tot-panorama-v3/ out of the Zip file into Celestia's /extras/ folder.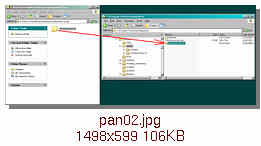 out of Zip into extras folder
Next, open the panorama's folder and Select (double-click on) the HTML page tot.html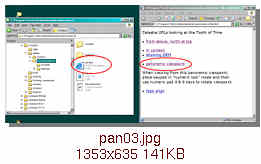 tot.html

Now it's time to look at the panorama!
Select (SINGLE-click) on the line that says "panoramic viewpoint". It will start Celestia, if it isn't already running, and then place you in the center of the panorama. As the HTML page says, if you put your numeric keypad into "numeric lock" mode, you can use the 4 and 6 keys to look around.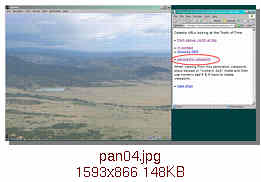 tot.html -> panorama

After you've admired the panorama for a while, you can look around outside it.
Select one of the other links in the HTML page. Use your mouse to look around. Hold down the left-mouse-button and slide the mouse back and forth slowly.
More navigation commands and other features are described in Celestia's Help menu. Many details are described in the Celestia User's Guide.
Have fun!
---
Contents
---
[back to Contents]