The New York State Sections of the
American Physical Society
and the
American Association of Physics Teachers
Joint Topical Symposium on Accelerator-Based Science
April 18-19, 2008

Cornell University
Robert Purcell Community Center and Appel Commons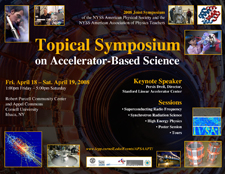 Keynote Speaker

Persis Drell
, Director
Stanford Linear Accelerator Center
Sessions
Superconducting Radio Frequency Technology
Synchrotron Radiation Science
High Energy Particle Physics
Teacher Workshps
Poster Session
Tours of Cornell Facilities
Poster Session

The APS poster session for will be held late afternoon Friday with prizes awarded to top posters detailing undergraduate and graduate student research. Please let us know the title of your poster when you complete our online registration form. Easels will be provided, but posters must be no bigger than 3' by 4' and presenters are responsible for mounting the poster on a
rigid backboard
.
Student Support

The NYSS APS has financial support available for undergraduate students. Please contact
Prof. Sunil Labroo
or visit the
NY Section Web Page
for details. Students do not have to present a poster to attend the symposium and receive support. (
Get Student Flyer here)
Teacher Support and Programs

K-12 teachers receive registration support from
CLASSE
,
CIPT
and the NYSS AAPT. Please see our online registration for more information.
Several centers at Cornell are preparing specific programs for teachers for Saturday afternoon. Please see the
agenda
pages for further details and please indicate in which one of these you will participate on the online registration form. (
Get Teacher Flyer here)
Symposium Dinner

The symposium dinner will be Friday evening with Prof. Drell, Director of the Stanford Linear Accelerator Center, as the guest speaker. Space will be limited to 150 people, so registration in advance is requested. As noted on the online registration form, there will be a choice of three entrees. Please indicate any further dietary restrictions when completing that portion of the online registration. Registration for meals closes the week before the symposium.