CLASSE NEWS
|
10 May 2023
---
CLASSE Receives Cornell Heroes Award!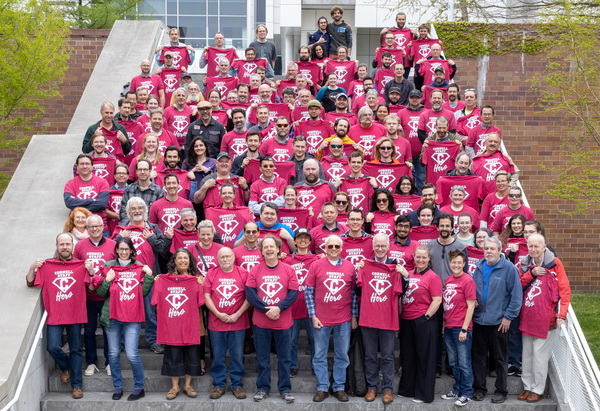 CLASSE Staff showing off their Cornell Heroes t-shirt after a celebration lunch.
The Cornell Heroes is an annual campaign that showcases working groups or teams that have made exceptional contributions to the Cornell University community. This year, the Cornell Laboratory for Accelerator-based ScienceS and Education (CLASSE) was awarded the honor via a nomination from the Office of the Vice President for Research and Innovation (OVPRI).
Why CLASSE?
For ongoing and creative solutions that enabled remote research at the onset of the pandemic, further contributing to COVID-19 research and research identified as essential by federal guidelines.
For teamwork and meticulous attention to detail in commencing construction on a new experimental hall at Wilson Lab, while keeping user research running smoothly and on schedule.
For teamwork and perseverance navigating structural failures in vacuum chambers and then working united around the clock to replace them in under a week.
For identifying the cause of multiple power outages within Newman Laboratory when no one else could, highlighting the analytical and participatory nature of CLASSE that resulted in a punctual solution.
For the day-to-day activities that keep safety and research activities at the highest priority.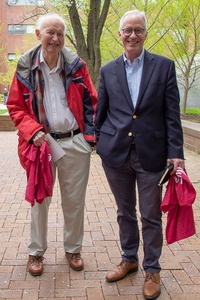 Don Hartill - Interim CLASSE Director (2020 - 2023) and Joel Brock - CHESS Director
A thank you from Interim CLASSE Director (2020 - 2023) Don Hartill:  "Our accomplishments over these past three years have been the result of the outstanding teamwork and enthusiasm of all our colleagues. In mid-March of 2020, the University was closed except for essential workers due to the Covid-19 outbreak. Arguments were made to the administration that two important experiments, one on the structure of an enzyme associated with Covid-19 and one important to national security, needed to be carried out at CHESS as soon as possible. With 10% of our staff permitted on site, the storage ring and the two CHESS beamlines were brought back on-line to carry out the experiments successfully in June. This was followed by successfully carrying out our usual summer maintenance with only 50% of staff permitted on campus. In parallel, software was developed to permit remote users to control their experimental runs in the CHESS X-ray beamlines remotely while local staff inserted their samples in the beam. We are now back to normal operations along with simultaneously constructing the new experimental for the high magnetic field X-ray beamline. The efforts in the CMS upgrade, experimental cosmology, accelerator physics, and high energy theory have also made excellent progress during this period. It has been a great privilege to work with such a dedicated and enthusiastic team. Thank you."
Read the article in the Cornell Chronicle
here
.