Superconducting niobium accelerator cavities operate at temperatures only a few degrees above absolute zero and, the best, impart more than 30 megavolts of energy to particles which transverse their volume but most fall short of this goal. Now, scientists in Cornell University's Laboratory for Accelerator-based Sciences and Education (CLASSE) are trying to streamline the process of turning underperforming niobium cavities into the state-of-the-art devices they are intended to be.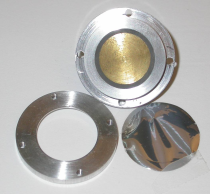 Presently, the majority of superconducting niobium cavities are limited by surface defects. Surface defect location is a cumbersome procedure requiring two or more expensive tests at temperatures just above absolute zero. These expensive cold tests rely on arrays of hundreds to thousands of small temperature sensitive carbon transducers which measure the minuscule heating which is the tell-tale sign of a defect. Cornell CLASSE scientists are in the final development stages of a far more efficient method which utilises a few (e.g. 8, see picture) transducers to detect the thermal wave which propagates away from the defect while the cavity fails. This
technique
is easily incorporated into current cavity acceptance testing hardware and doesn't require the skilled technicians essential to the carbon based approach.