SRF News: 2014
2015 Robert R. Wilson Prize for Achievement in the Physics of Particle Accelerators Recipient Hasan Padamsee (11/10)
Hasan Padamsee, the Cornell adjunct professor and group leader of Cornell's SRF group for decades (now leading the technical devision of FNAL) has received the 2015 Robert R. Wilson Prize for Achievement in the Physics of Particle Accelerators. His citation reads: "For his leadership and pioneering world-renowned research in superconducting radio-frequency physics, material science, and technology, which contributed to remarkable advances in the capability of particle accelerators." Hasan Padamsee is recognized as one of the world's top experts on SRF. He has worked in this field for nearly 4 decades and has made contributions to nearly all its breakthroughs. His influence has been magnified by his students at Cornell and by his collaborators. SRF technology has strongly increased in importance for the field of high-energy accelerators, and an impressive share of the credit for this success story goes to Hasan. It is safe to say that likely, without his contributions, SRF technology would not be ready today for the most modern accelerators that are under construction and development: PIP-II, LCLS-II, ESS, and the European XFEL. It is fitting that Robert R. Wilson, second director of Cornell's high-energy physics lab, was also at Cornell for decades before becoming the founding director of FNAL.
Cornell's Next Generation Accelerator Module makes Trek Across Campus (09/22)
Cornell SRF Grad Receives 1st Prize at International Linear Accelerator Conference 2014 in Geneva, Switzerland (09/12)
LCLSII 9-cell Cavity exceeds Intrinsic Quality Factor Specification in Cryomodule for the First Time (08/05)
0
) specification can be achieved in a cryomodule configuration, and has set a new record for the efficient operation of an SRF cavity in a cryomodule. The cavity (TB9ACC012) was etched, N-doped and tank welded by the Fermilab team, and then was sent to Cornell for final cleaning (HPR), mounting, and installation into the Cornell Horizontal-Test-Cryomodule (HTC). After fast cool-down from 100K to operating temperature with large temperature gradients over the cavity during cool-down, the intrinsic quality factor Q
0
at 2K, 14 MV/m was (3.2+-0.3)E10, thus significantly exceeding LCLSII specifications of 2.7E10. Detailed cool-down studies with the cavity in the HTC showed that large spatial temperature gradients over the cavity during cool-down (rather than large temporal gradients) are critical to reduce trapping of ambient magnetic field in the cavity walls.
Cornell SRF Grad Receives Poster Prize at 2014 International HOM Workshop at Fermilab (07/23)
Cornell Nitrogen-doped Single Cell SRF Cavity Reaches Record Performance (01/01)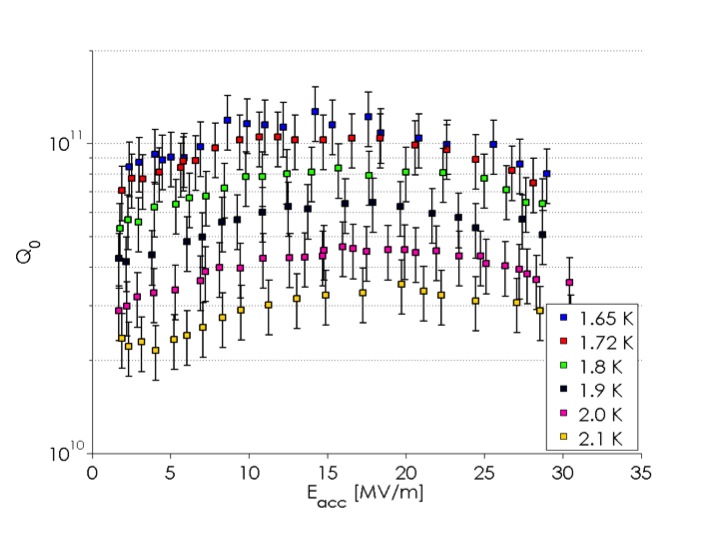 The Cornell SRF team recently has fabricated, prepared and tested a 1.3 GHz single cell SRF cavity, which reached record high intrinsic quality factors Q
0
at high accelerating fields. To reduce wall losses by the RF fields inside the cavity, the niobium surface layer of the cavity was doped with nitrogen, a procedure originally developed by researchers at FNAL. In a cavity performance test conducted by graduate student Dan Gonnella, the Cornell cavity reached 2K quality factors of 3.5x10
10
at a very high accelerating field of 30 MV/m. At 1.8K and 30 MV/m, the quality factor climbed above 6x10
10
. No other SRF cavity before has reached such high cryogenic efficiency at high accelerating fields in the 30 MV/m range. The cavity was prepared and tested as part of Cornell's ongoing LCLS_II high Q
0
program, which is led by Prof. Liepe. SRF cavities with high intrinsic quality factors at medium to high fields are of critical importance for future SRF driven linear accelerators. These SRF linacs will operate in continuous mode, and become only feasible with highly efficient (i.e. high Q
0
) SRF cavities. Dan Gonnella is in his third year of PhD studies in the SRF group. His advisor is Matthias Liepe.
All 7-cell cavities for the ERL Main-Linac Cryomodule pass vertical tests (04/03)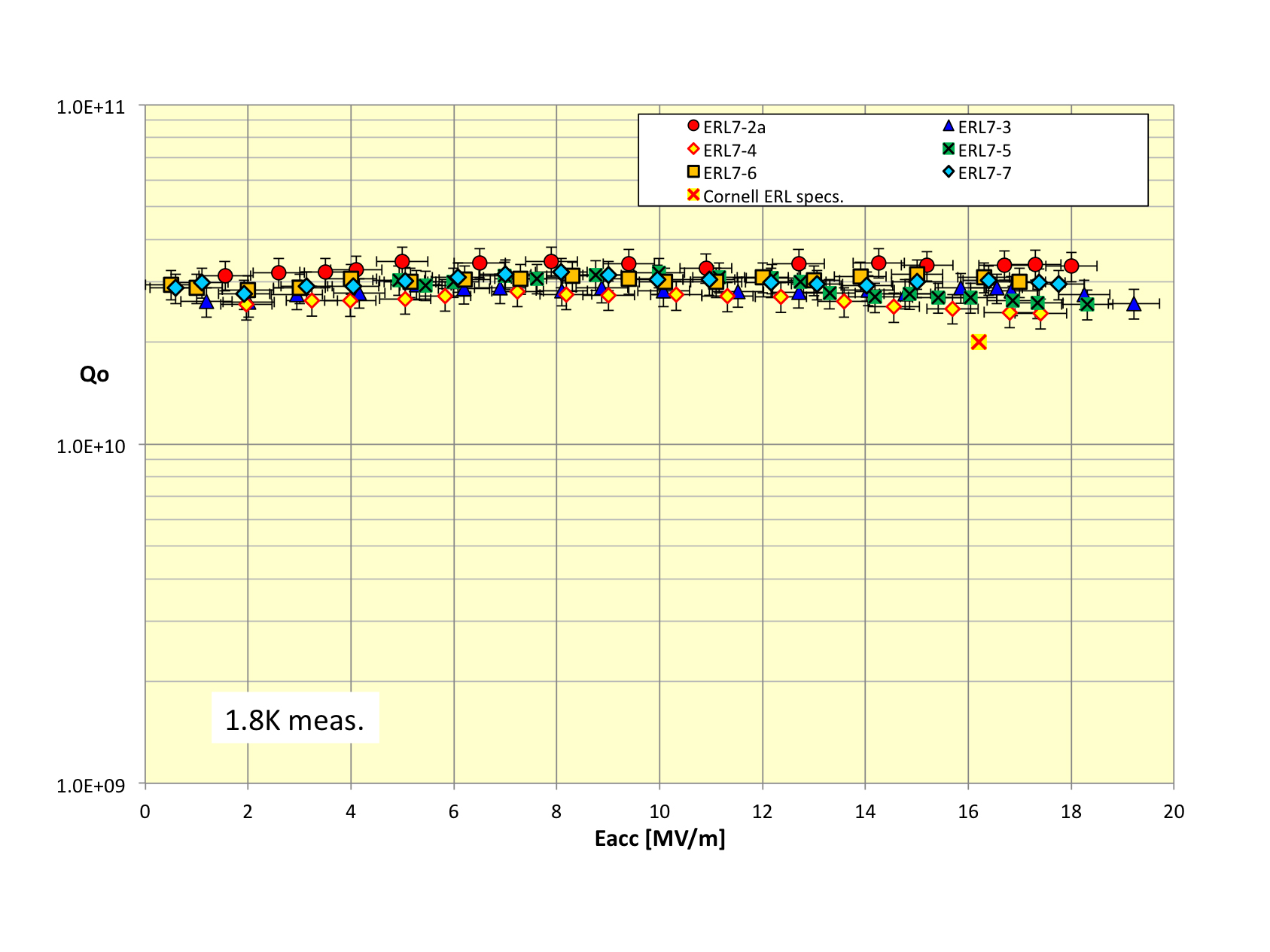 The Cornell ERL 7-cell cavities for the Main Linac Cryomodule (MLC), six 7-cells in total — have been fabricated, processed, and tested in the Cornell Laboratory for Accelerator-based Sciences and Education (CLASSE) vertical test pit. All have surpassed the specification values (Eacc=16.2MV/m with Q
0
of 2.0e10 at 1.8K). In fact, the achieved Q
0
during VT were much higher than specs, the average of Q
0
is almost 3e10 at 1.8K. Through these 7-cell VTs, we have successfully demonstrated our high reliability in fabrication, high reproducibility of processes, and high yield of the results. The performance was achieved with a 100 % yield and needed no reprocessing. This is an important milestone for all future accelerators with high-Q
0
cavities.