Maps
Area map - An area map that shows main roads, hotel locations, and meeting venues.
Cornell parking map - A campus map showing the meeting venues and the lots designated for metered, Visitor and weekly parking.
Visitor Lot Map - A campus map showing the locations of metered and Visitor parking lots. This is the most detailed campus map, though the workshop venues are not specially highlighted.
Travel to Ithaca
Additional information is available at the Cornell Travel Information site.

Airline service
Fly directly to Ithaca
Served by US Airways. The airport is a 10 minute drive from all hotels. Some hotels offer shuttle service, or you can take a taxi (call Ithaca Dispatch at 1-888-321-1149 or go to the Ithaca Airline Limo desk in the airport.)

Fly to Syracuse
Served by a number of airlines. The airport is a 1 1/4 hour drive from Ithaca. Ithaca Airline Limo provides van service or you can rent a car. Use the directions for driving from the North, below.

Fly to Elmira
Limited service by US Airways and a couple of other airlines. The airport is a 45 minute drive from Ithaca. Ithaca Airline Limo ((800)273-9197, $88 one way) and Ithaca Dispatch ((607)277-7777, $65 one way) provide taxi service, or you can rent a car.



Buses and Trains
See Cornell Travel information.



Driving to Ithaca
From the North
Take route 81 South. Exit at Cortland (exit 12). Follow route 281 South until it joins Route 13 South, and continue on Route 13 South into Ithaca. Don't miss the right hand turn at the stoplight in downtown Dryden. Directions from Route 13 to the various hotels follow each hotel listing.

Getting Around Ithaca
Walking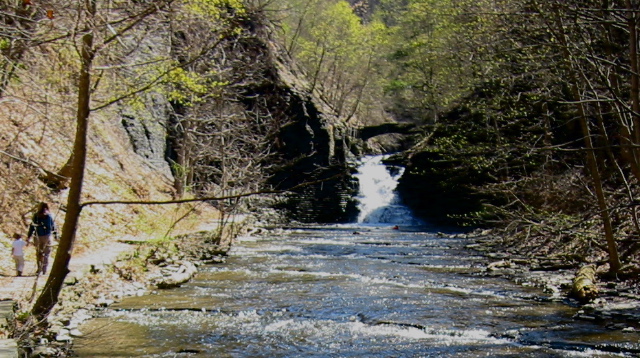 The Cascadilla Glen Trail runs between downtown Ithaca and Cornell. The trail starts at the park near the intersection of Court St and University Ave and ends adjacent to the Schwartz Center for the Performing Arts, close to the College Ave bridge. Because of uneven terrain, following the trail takes 5-10 minutes longer than using city streets.

Shuttle Buses
Reception Schedule (Hotels to Reception)
Comfort Inn - 6:00 PM and 7:00 PM
Super 8 - 6:07 PM and 7:07 PM
Holiday Inn - 6:15 PM and 7:15 PM
Reception - 6:20 PM and 7:20 PM
EconoLodge - 6:30 PM and 7:30 PM
Clarion - 6:35 PM and 7:35 PM
Reception - 6:45 PM and 7:45 PM
A van will run from the Reception back to the hotels regularly.

Morning Schedule (Hotels to Workshop)
Comfort Inn - 8:00 AM pick-up (Route 1, Bus 1)
Super 8 - 8:10 AM pick-up (Route 1, Bus 1)
Holiday Inn - 8:10 AM pick-up (Route 1, Bus 2)
EconoLodge - 8:00 AM pick-up (Route 2)
Clarion - 8:10 AM pick-up (Route 2)
All buses arrive at the Workshop at 8:20 AM.

Sunday: Buses will depart for the hotels following the conclusion of the regular sessions (approx. 5:45 PM). The LEPP van will also be available for transporting those attending the special session.

Monday: Buses will leave campus for Treman Park following the end of the afternoon session (approx. 4:15 PM). After the BBQ, buses will depart from Treman for the hotels and Hughes Hall between 7:30 PM and 8:30 PM.

Tuesday: After the banquet, buses will depart from campus between 8:30 PM ad 9:00 PM for the hotels. For individuals not attending the banquet, buses will be available for transportation to the hotels after the sessions (approx. 6:15 PM).

Wednesday: Buses will depart from campus for the hotels/airport at the conclusion of the Workshop (approx. 1:30 PM).
City and Regional Buses
There is an extensive system of public buses. Some routes between the hotels and meeting rooms are:
Holiday Inn (Ithaca Commons stop) - 17, 21, 30, 31, 37, 40, 41, 42, 43, 51, 52, 67
Super 8 - 15, 67
Comfort Inn - 67
Clarion - 30
Parking
Parking at Cornell can be tight, so consider staying at the dorm, which is adjacent to the meeting rooms, staying at the Holiday Inn downtown and walking (it's about a 25 minute walk including a healthy hill ...try the beautiful trail up through Cascadilla Glen, shown in the picture above), or taking advantage of the Shuttle buses.

If you decide to drive, then from from 7:30 AM to 5:00 PM Monday to Friday you will need to use a metered lot or obtain a parking permit. Evenings and weekends, parking is free and usually readily available. There are two permit options. One is to purchase a one-day parking permit from a visitor parking booth (there's one in front of Carpenter Library) for $8. This entitles you to park in any visitor parking spot. Alternatively, when you register for the conference, you may purchase a weekly permit for $12 that allows you to park in the C, K, Tier 1 and Tier 2 lots. Here is a Grand Unified parking map showing the location of lots available to holders of Visitor and weekly parking permits as well as the location of metered parking.

For more information, check Cornell Visitor Parking.